I'm terribly late with fics for the meme, but I have this awkward feeling that if I was late with the meta, my head would roll (I'm looking at you, Frances), so here I am. The post is freakishly long, which may or may not imply that I have no life. I regret nothing. The banner was made for me by

juana_a
for another Damon/Elena meta, and I'm shamelessly recycling. The title comes from Richard Siken's "Litany in Which Certain Things Are Crossed Out". The screencaps I'm using belong to
ladymanson
. The thoughts, I'm afraid, are mine.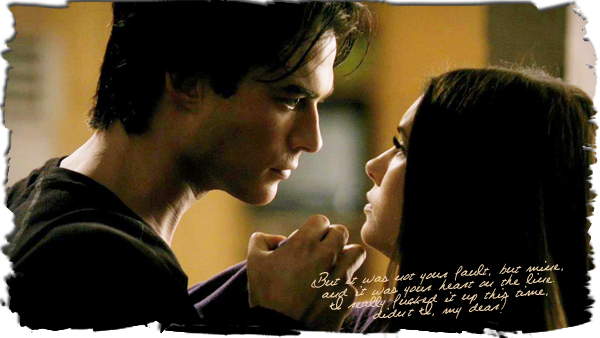 Banner made by

juana_a. Quote from "Little Lion Man" by Mumford And Sons.
My first instinct was to write this meta chronologically. Just describe step by step how this relationship was developing, and end with a big speculation paragraph explaining how, obviously, my idea for future Damon/Elena is the only acceptable idea ;). But then: I've read metas like that. They were damn good metas. I might have two or three new things to add, but not enough to make this post worth reading for anyone who is at least remotely interested in the ship; we've been through the whole "Damon tries to seduce her to mess with Stefan => she shows compassion => Georgia => Katherine not in the tomb etc" thing, haven't we? So that's not how this meta is going to work. Screw chronology. Let's talk about themes.
Warnings:
This is a Damon/Elena meta prompted by

ever_neutral
for my
December Meme of Doom
. No functional relationships will be found in this post. No shipwars will be found in this post. Not enough graphics will be found in this post, because I have no Photoshop skills :(. All the romantic delusions that can be found in this post belong solely to Damon. Oh, and there are spoilers up to TVD 3x09.
( Love Always Wakes the Dragon )
And, finally, some recs. Because I actually, you know, treated this meta seriously, so I've been reading things, and talking to people.
— There were two amazing Damon/Elena discussions on my own journal; they just came out of nowhere and consumed a few days of my life. They're both pretty chaotic, but if anyone is interested, it's scattered around those posts:
click
click
.
—

ever_neutral
wrote an incredible Damon/Elena meta after s2:
All You've Done is Give Up
. When I was writing my post, I was trying very hard not to mention things covered by Alex, because why would I copy-paste?
—

laniaaa
wrote an awesome meta explaining why she ships Damon/Elena and how Damon is a horrible person:
very big, very long discussion on why i ship my otp, and why i sometimes hate it
.
If you have some more D/E discussion or meta recs, please do tell :).